Wards & Councillors, North of the Thames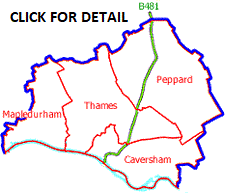 There are four Council Wards. Click the ward names to see the current councillors:
N.B. From May 2022, new boundaries will come into place: Boundaries 2022
Until then: Caversham, Peppard and Thames Wards are all represented by three Councillors. Mapledurham has a small number of voters and is represented by one Councillor.
Councillors are elected for four years. Every year an election is held for one seat in each ward, except in the fourth year, when there is no election.
These links provide details of Reading councillors by ward.
Use this link for a ward map for the whole of Reading, showing streets. The Ordance Survey's Election Boundaries Maps can provide detail with street names and individual buildings.
The dates of forthcoming Reading Borough Council committee meetings are available through this link. Just before a meeting the details of the agenda and the papers are also on their website.
Local Council for Caversham
Following a question at the CADRA AGM on 12 May 2015 on the possibility of a Local Council for Caversham, we agreed to make further information available.
The first step in the process would be to petition Reading Borough Council to carry out a Community Governance Review (CGR). This requires signatures from 7.5% of the population within the defined area of Caversham. Guidance is available at: http://www.nalc.gov.uk/our-work/create-a-council
DCLG Guidance on Community Governance Reviews can be found at. https://www.gov.uk/government/uploads/system/uploads/attachment_data/file/8312/1527635.pdf
The update on the criteria for a petition can be found at http://www.publications.parliament.uk/pa/cm201415/cmselect/cmdelreg/969/96904.htm
Heritage Walks of Caversham 2012
For the 2012 Heritage Open Days, CADRA and the Friends of Caversham Court Gardens joined together to lead Heritage Walks of Caversham. The route was based partly on the heritage map, which is to go up outside Caversham Library as part of the Caversham 100 Years On project. CADRA has been responsible for the research and coordination of the map, working with local artists and designers
Visitors began their tour on Caversham Bridge for a brief glimpse into some of the early history of Caversham manor and the growth of industry, commerce and leisure as the village expanded. From a site of pilgrimage to a tourist destination and now to a thriving urban centre, Caversham has developed through the ages and still has examples of architecture from the 12th century to the 21st.
There are many hidden gems to please the eye, and many characters who contributed to Caversham's history. The walks sought to draw attention to some of these and to build on the legacy of the Caversham 100 Years On project. Visitors ended their walk in Caversham Court Gardens for tea by the river and further insights into the history of the area with a tour of this recently-restored site.
It was originally planned to take two groups of fifteen people but as these booked up so quickly, an extra two groups were arranged and all four tours were fully booked. The groups included people from Caversham, Reading and across the world.
Look out for local events over the Heritage Weekends each September at https://www.heritageopendays.org.uk/about