Local Events Websites
14 November 2021
These are local organisations that provide a list of some forthcoming events. It is by no means comprehensive, but they are local and have a genuine interest in the local cummunity.
The new What's On in Reading website replaces the existing Reading Arts and Venues. The big difference is that groups other than RBC related are able to add their events to the programme (after some training).
Reading Borough Council - Things to do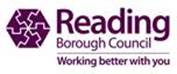 Choose Caversham - Events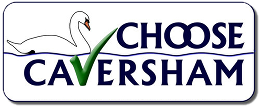 South Oxfordshire District Council - Events

There are also other organsisations which we think mught be of interest to our members:
Concerts in Caversham regularly put on "high quality concerts brought to you by some of the most talented musicians in the country".
The Climate for Electric Cars Video of CADRA Autumn Talk
14 November 2021
The Climate for Electric Cars Video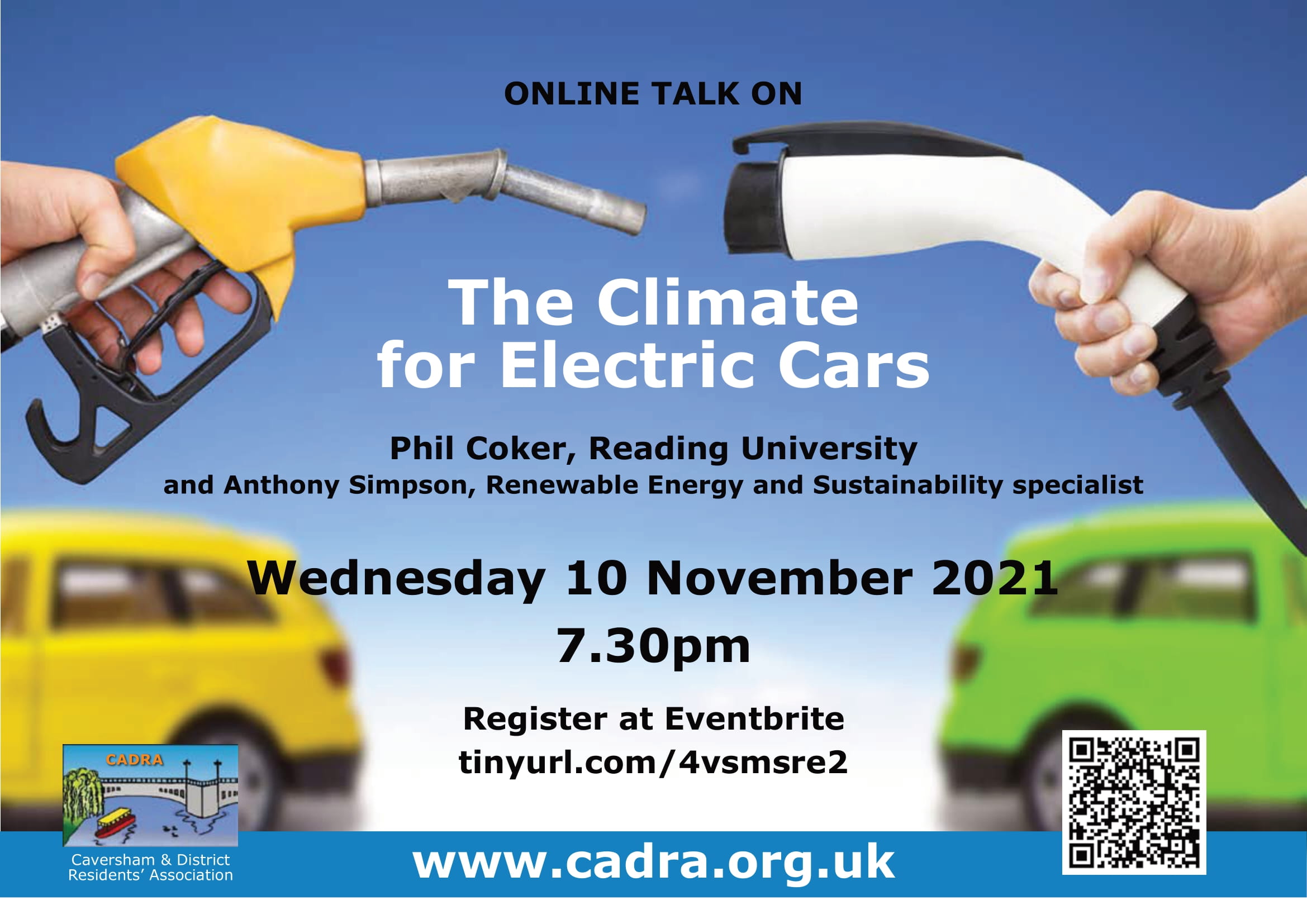 If you missed our highly successful 2021 Autumn talk or just want to see it again, you can watch it now on YouTube by clicking on the title above.
We hope the talk will help decide whether, when and how to change to an electric car? What are the benefits and challenges for you and for the energy industry? Is an electric vehicle really greener? And how does this fit in to all the national issues on energy supply?
Phil Coker, from the University of Reading Energy and Environmental Engineering Research Group, is examining the variability of renewable energy supplies and the challenges in moving towards a low carbon energy system. This includes demand response, energy storage, vehicle-to-grid and hydrogen applications. Anthony Simpson works in Renewable Energy and Sustainability including the grid integration of electric vehicles.
Repeat Reading Abbey and the Gaol Talk
2 July 2021
We are pleased to confirm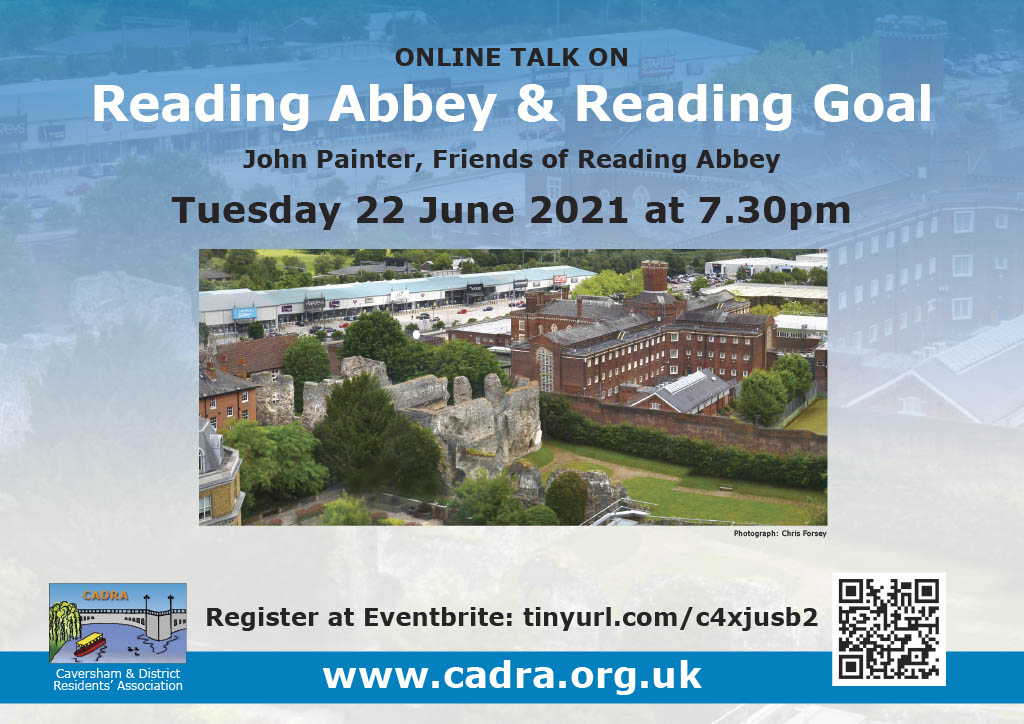 that our online talk, Reading Abbey and Reading Gaol by John Painter, will be repeated at 7.30pm on Tuesday 20 July. John Painter (Friends of Reading Abbey) explores the overlapping histories of the Abbey and the Gaol. CADRA is pleased to present this on-line talk, which in normal times would follow on from our AGM. It comes just after the 900th anniversary of the founding of Reading Abbey. John Painter's talk features images of the Gaol by Matt Emmett (Forgotten Heritage)
CADRA 2019 Autumn Meeting
11 September 2019
The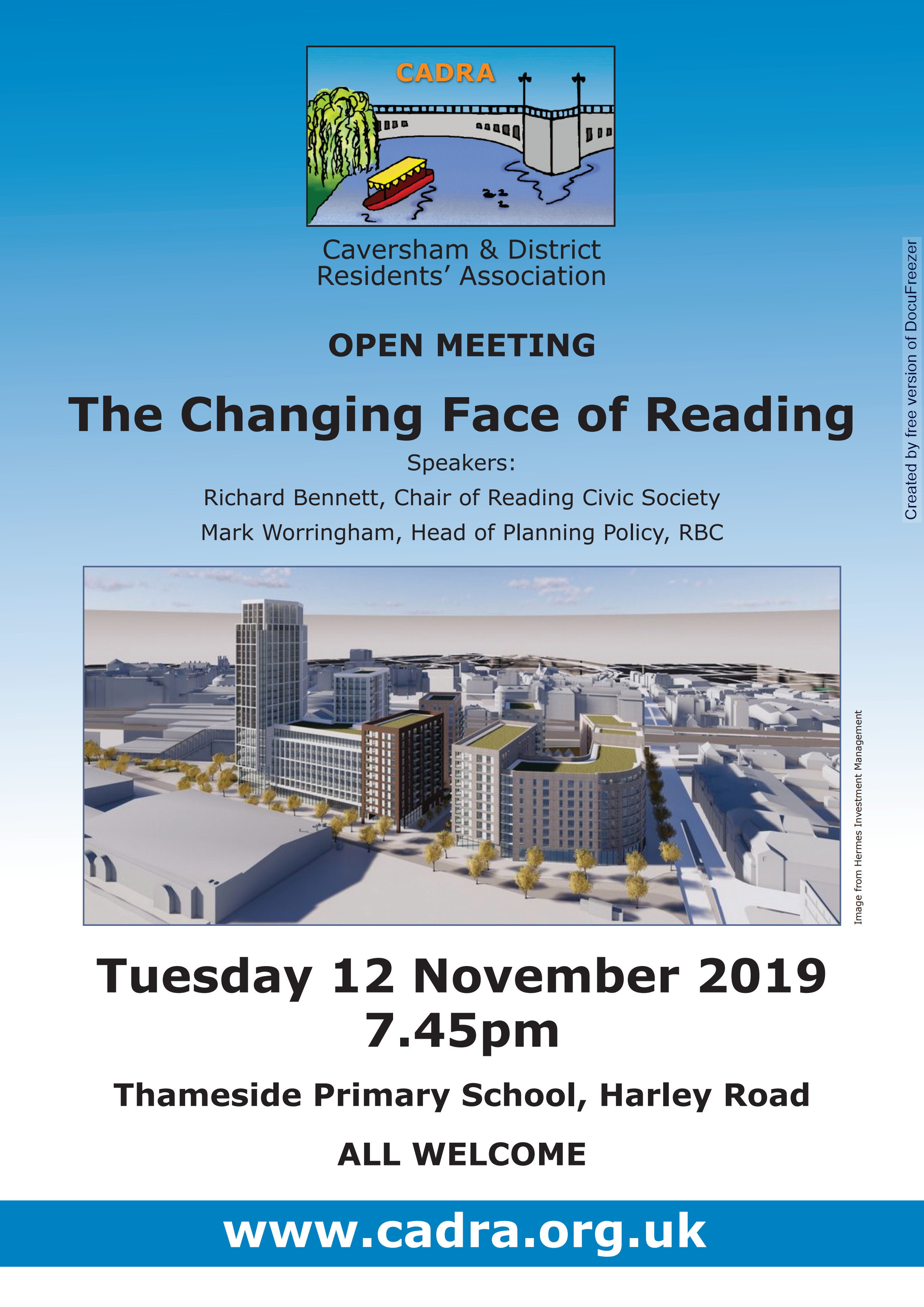 CADRA Autumn meeting will be a talk entitled "The Changing Face of Reading".
We are pleased to welcome: Richard Bennett, Chair of Reading Civic Society, and Mark Worringham, Head of Planning Policy, Reading Borough Council.
The meeting is on Tuesday 12 November at 7.45pm in Thameside School Hall, Harley Rd, Caversham.
CADRA 2019 AGM 11 June - Chair's Report & Accounts
5 June 2019
The CADRA AGM takes place on Tuesday 11 June 2019 at 7.30pm in Thameside School Hall, Harley Rd, Caversham. The agenda, including links to the formal documents, is as follows: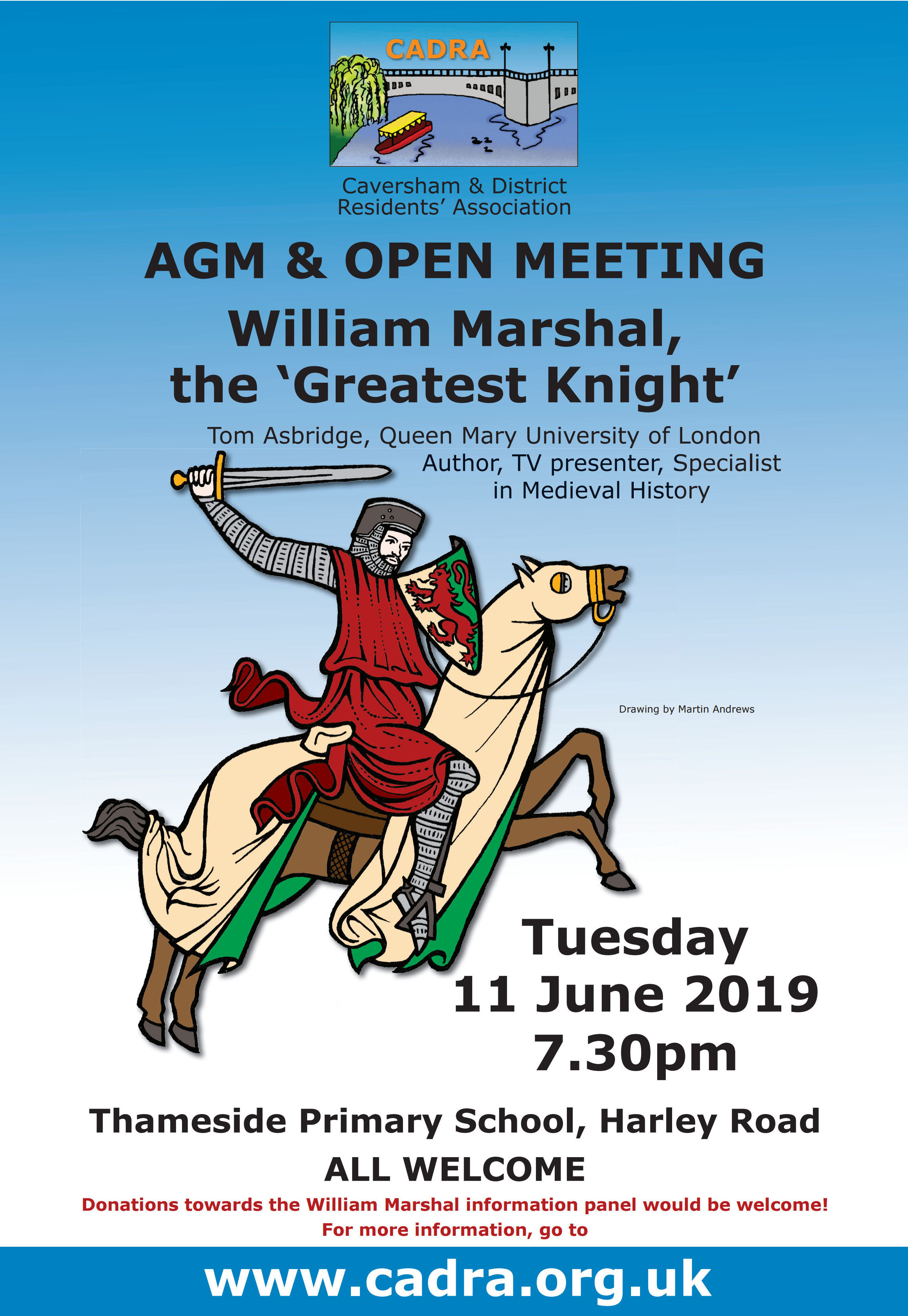 1. Minutes of 2018 AGM
2. Chairman's Annual Report
3. Treasurer's Report - 2018-19 Accounts
4. Election of Committee
5. Any Other Business (items advised in advance only)
Following the AGM, we are delighted that Tom Asbridge from Queen Mary University of London has agreed to speak. Tom is the author of the well respected book, "The Greatest Knight" and has presented a number of TV programmes about William Marshal.
CADRA 2018 Autumn Meeting
6 November 2018
The presentation 'The Changing Thames' given by Terry Marsh,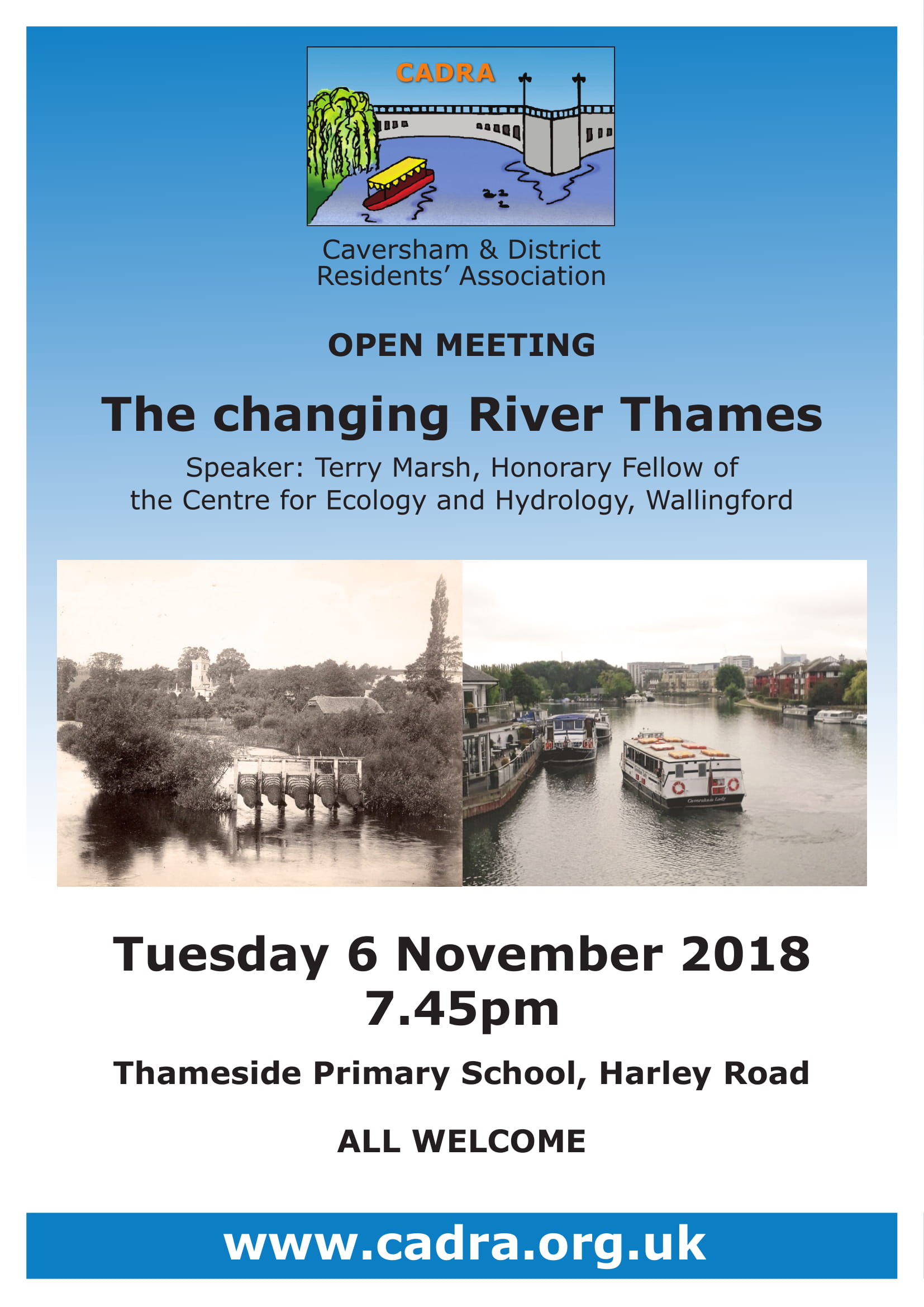 honorary Fellow of the Centre for Ecology and Hydrology, Wallingford at CADRA's Autumn 2108.
CADRA 2018 AGM
17 April 2018
The CADRA AGM took place on Tuesday 17 April 2018 at 7.30pm in Thameside School Hall.

Following the brief formal business, the speaker was Sue Holden, Chief Officer of the Chilterns Conservation Board for the Chilterns Area of Outstanding Natural Beauty.
The Chilterns lie on Caversham's doorstep: their woodland, hills, views, chalk streams and history provide a huge recreational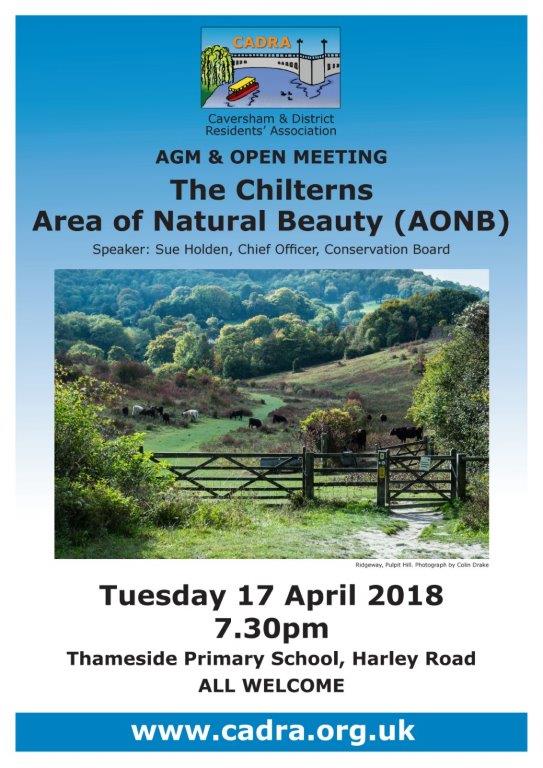 asset for all of us, as well as a rich and diverse habitat. But such a lovely area so close to London is under huge development pressure, not only from housing but from big infrastructure projects like HS2.
The Chairman's Report 2017-2018