Local Environment
What we do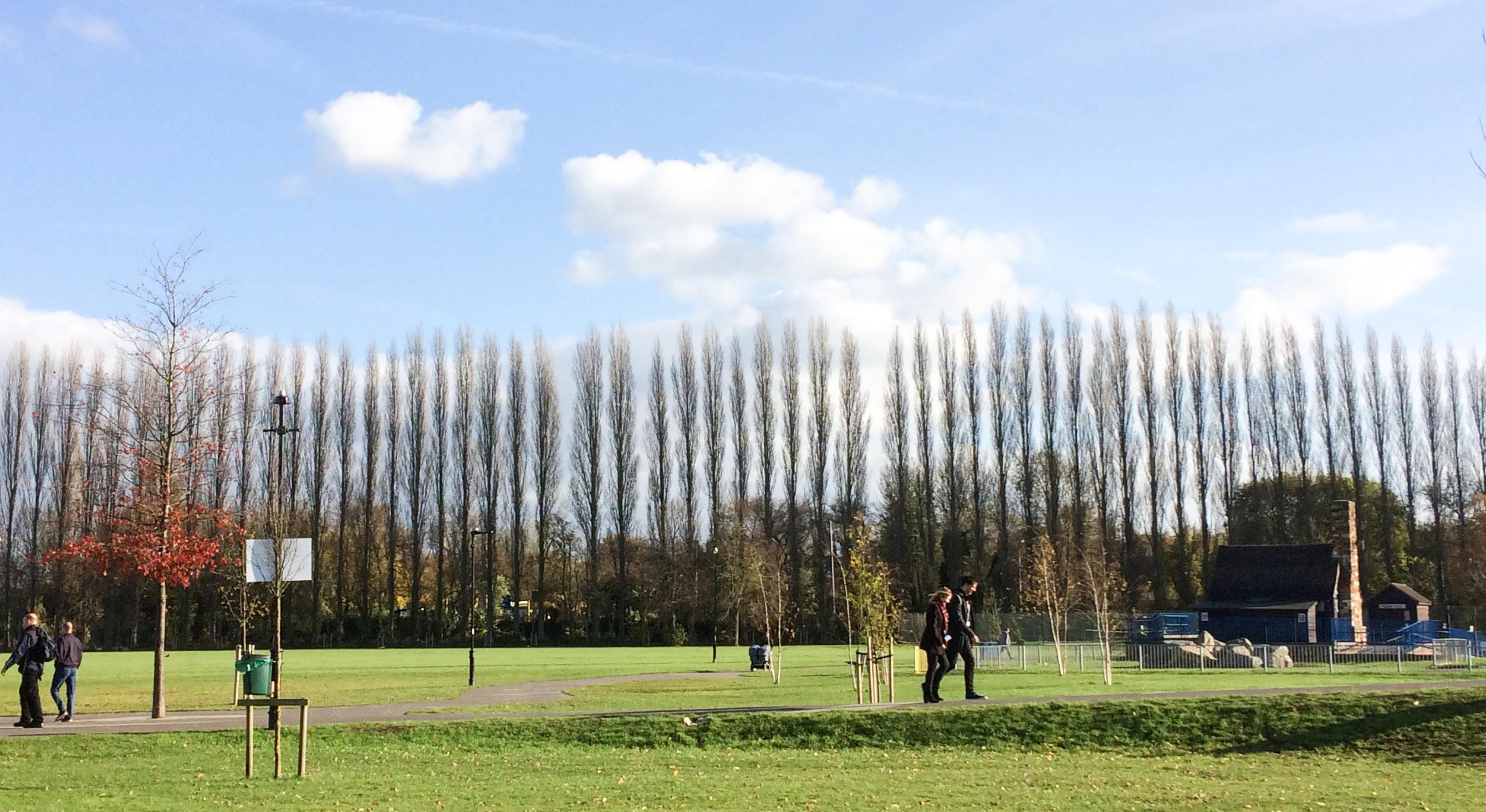 CADRA takes an interest in all open spaces and footpaths in Caversham and, from time to time, becomes involved in particular areas or schemes, including Caversham Court Gardens, King's Meadow Baths and Mapledurham Pavilion.
Air Quality
There has long been concern about the poor air quality in central Caversham. A nitrogen dioxide test tube installed by Caversham GLOBE at the Church Road/St Anne's Road junction for two weeks in December 2017 registered 56.2 µg/m3 of nitrogen dioxide, which exceeds the legal annual mean limit of 40µg/m3. In Mar 18, CADRA funded four more test tubes, which GLOBE installed at busy junctions in central Caversham. In Jul 18, GLOBE did the tests again and the results in micrograms were:
| | | | |
| --- | --- | --- | --- |
| Location | Jul-18 | Mar-18 | Dec-18 |
| 59 Church Street, RG4 8AX (Waitrose Roundabout) | 41 | 41 | |
| 14 Church Street, RG4 8AR (Priory Avenue Junction) | 49 | 47 | |
| Peppard Rd, Prospect St Junction (Prince of Wales Pub) | 71 | 51 | |
| Church Rd, St Anne's Road Junction (Griffin Pub) | 50 | 57 | 56 |
RBC has four automatic monitoring stations which measure the levels of different pollutants, in real time, across the borough; one is located near the roundabout on the south side of Caversham Road.
The Council also operate a non-automatic network of passive diffusion tubes looking at nitrogen dioxide levels (NO2). There are a number in Caversham along: Church St, Church Rd, Prospect St and Gosbrook Rd. For more information visit Air Quality
Reading Borough Council
Parks
Reading Borough Council provides information on all open spaces under their jurisdiction and any plans for change at Parks
Allotment Availability
To find out about the availability of allotment sites and plots visit Allotments
Caversham Court Gardens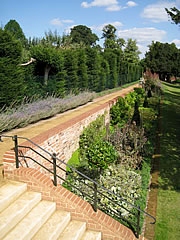 In May 2006 the Heritage Lottery Fund approved funding to support the restoration of Caversham Court Gardens. Much of this funding was used to restore the 17th and 19th century features of the garden, including the gazebo and its causeway, the crinkle-crankle retaining wall, and the ancient yew family and hedge.
Some historic features that had been removed over the years have been replaced, like the ornamental Pugin style gateway. The planting has also been restored to recreate the intimacy of the private garden with its flower borders and riverside walk.
Archaeological excavations were carried out following the uncovering of remnants of the old glasshouse. The foundations of an earlier and later glasshouse have been discovered, together with what appears to be an ornamental pond, a water storage tank, old pipework, the flue of a boiler and internal paths.
Further information about the gardens can be found on the: Friends of CCG
The Tea Kiosk situated in Caversham Court Gardens, is run by five local charities and is normally open from the 1st April to 31st October each year.
Trees
Trees are such an important part of our environment and we are fortunate in Caversham, where we have so many, including some fine specimens. The Reading Tree Wardens are a team of volunteers, who encourage local community awareness of their trees and the care of them. They have produced maps of tree-walks around Reading, including this one for Caversham.
Rights of Way and Footpaths
In September 2021, RBC consulted residents about local rights of way. This was CADRA's Response.
Changes in local Rights of Way have been charted by the local Local Access Forum.
Thameside Parks
Reading is one of a very few large Thameside towns with a continuous ribbon of green space, almost entirely free of development, open to the public and with little that is privately owned.
Reading Borough Council's Thames Parks Vision Statement written in 2004 is still relevant today. It is a strategy for maintaining and improving this precious public resource, so that it may continue to be enjoyed by as many and as wide a range of people as possible.
Environment Agency (EA)

The Environment Agency deals with all aspects of flooding and building on flood plains. It also deals with the effect of major developments on the environment.
For a list of ways to contact the Environment Agency follow this link: EA Contacts
EA Flood Risk Aleviation Scheme History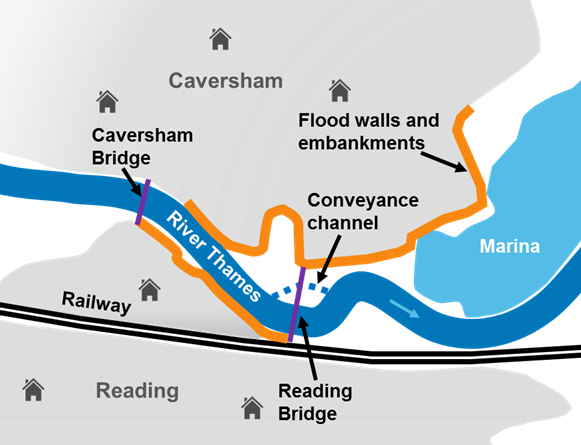 In 2018, the Environment Agency (EA) began a review of how to aleviate the risks of flooding in Caversham and Reading properties, close to the Thames. Local Residents and community groups were consulted throughout, including CADRA. We met with the EA and commented. In February 2020, the EA proposed an aleviation scheme, which CADRA also commented on. In Deccember 2021, the EA concluded their review and issued a Statement, saying that in view of the increase in costs and a reduction in the economic benefits, the proposed scheme would not attract government funding and will not be progressed, however a number of steps will be taken to increase flood resilience.
A previous statement by the EA about the scheme follows, and after that some before and after images of their proposals. This EA Information Page may also be of interest.
"Flooding can be devastating, as we have seen around the country in recent weeks. It can have long lasting effects financially and on people's mental health. The average cost to a household is £30,000.
Reading has been fortunate this year. We haven't seen the kind of rainfall that has affected Wales, the Midlands and the north. However, it could be just a matter of time.
There is a long history of flooding from the River Thames in Reading and Caversham from the major floods of 1894 and 1947 to the more small scale floods in 2003, 2012 and 2014.
There are over 700 properties at risk of flooding in north Reading and Lower Caversham with wider impacts such as loss of power, other utilities and disruption to transport.
At the Environment Agency, we would like to work with partners and communities to reduce this risk of flooding before it happens.
We have been speaking to local residents about our latest plans, which include a combination of flood walls, embankments, temporary barriers and a new channel. We have met with various resident and environmental groups and held a series of public drop-ins.
At previous public drop-ins in 2018 and 2019, people said that they wanted to see more detailed information, so we have produced landscape plans and before and after pictures to help residents to visualise what the scheme could look like.
We have also talked to people about their current flood risk and what they can do now to reduce that risk, such as sign up for flood warnings and make a flood plan.
We also displayed material to help with some common mis-conceptions, including the level of current flood risk, height of walls, flood impacts elsewhere and the number of trees being affected.
Any walls built would be set back from the river and are likely to be a similar height to existing fences and walls. Where this is not possible we will look at how the appearance of walls can be softened, and if scheme goes ahead will discuss options with local residents.
We have also explored how we can reduce the number of trees affected. Any trees lost would be replaced and we will ensure that the local community is involved in choosing the location and species of replacements trees. "
We are applying our modelling techniques to work out the best standard of protection, such as heights of walls, to protect as many properties as possible, and will not build a scheme that transfers risk from one place to another. We are keen to develop a project that will enhance the area for the local community as well as protecting it from flooding.
It is important to remember that the scheme is still in the early stages of development and it does not have the necessary permissions or funding. "
Map of areas currently at risk in a major flood now, and if the scheme were implemented:
Image towards Reading Bridge from the play area, as it is now:

What the EA are proposing, showing the new channel diverting water away from The Thames:

Images of Regents Riverside as it is now and as proposed:
Mapledurham Pavilion & Playing Fields
The long awaited refurbishment of the Mapledurham Playing Fields Pavilion, off the Upper Woodcote Road, finally reopened in late 2021, after delays caused by the Covid pandemic. The pavilion includes a community hall and sports changing facilities. The new Heights Primary School, which is next to it, opened in September 2021.
Planning permission (130613) for a refurbishment was granted in July 2013. This was delayed as a result of the negotiations surrounding the building the Heights Primary School. Subsequently the Education and Skills Funding Authority provided funds for a more extensive refurbishment of the pavilion and also for improving the sports and recreation facilities on the Mapledurham Playing Fields.
Because of safety concerns, the Pavilion was closed to the public in January 2016 and a new planning application (191677) for the pavilion was granted in December 2019. Work began on the playing fields in 2019 and on the pavilion in early 2020. Work on the pavilion was halted for covid-19 but restarted in early May with revised working practices.
The Warren and District Residents Association led several fundraising projects for the pavilion and Festival Republic made a £50k contribution.
King's Meadow Baths
Thames Lido Opens
Following a long and successful campaign by the Kings Meadow Baths Campaign team to save this important local landmark, working alongside Reading Borough Council, the sensitively and imaginitively restored baths reopened as Thames Lido in October 2017.
The Baths
The Women's Outdoor Swimming Pool was built in 1902. The ironwork was made by Allan & Kidgell at their Caversham Bridge Engineering Works.
The pleasure bathing pool was built to allow Edwardian women to bathe in privacy. It was originally fed from the Thames though it was converted to main supply in the 1950s. It is a rare and fine example of a complete Edwardian Lido.
The Background
Following the Grade II listing of the baths in 2004, the Council sought a viable future for the building. A set of planning principles for both the baths and the adjacent Lock Island was formally agreed in 2006 after a public consultation. Working with the Environment Agency, tenders were invited. Two proposals were considered. One was a commercial proposal for a hotel, cafes and offices and would have converted the baths into a hotel spa. A proposed bridge over the meadow to a car park caused widespread concern. The other was from the King's Meadow Campaign who had long been seeking to restore and re-open the baths.
After the commercial tender withdrew the opportunity of public access to the baths, the Council gave the King's Meadow Campaign a limited period to raise funds. That period was extended in October 2011 and the Campaign was warmly encouraged to continue their work.
In September 2013, Reading Borough Council voted to give the management team from Bristol Lido the opportunity to develop the site and reopen the pool. The Campaign Team stood down in July 2017,when the restoration was nearing completion.