Covid-19 Local Resources
CADRA's Response - What We are Doing
We are developing this page to provide sources of help and advice during the coronavirus pandemic. We will try to keep the information up to date but, as you can appreciate, things are changing frequently. Please check for new posts on https://www.facebook.com/cavershamresidents. You do not need to be on Facebook for this. These are organisations and items we are highlighting:
Reading Voluntary Action is maintaining a page with a wide range of information for individuals and groups. http://rva.org.uk/coronavirus-community-action/
Community Action Response - Covid 19 have listed five things you can do to make a positive difference in your community.
Facebook Groups and Pages
The CADRA Facebook page, for which you don't have to be on Facebook, will have information posted as it becomes available https://www.facebook.com/cavershamresidents/
Caversham Mutual Aid Covid Coronavirus Help Support is a forum to seek or offer help https://www.facebook.com/groups/196803968271709/
Emmer Green mutual aid covid-19 support https://www.facebook.com/groups/224018755635420/. If you live in Emmer Green and need assistance please start your post with HELP NEEDED. Help with: groceries, medication, dog walking etc. Never list your address/phone/email, a private message in reply will be sent.
Reading & Local Areas: Delivery & Takeaway Suppliers https://www.facebook.com/groups/2528901730759928/
Class of Covid-19 is for parents and teachers to share resources for home teaching and a place to ask questions from teachers offering support https://www.facebook.com/groups/502042943810868/
How You Can help
There are many ways to help - For those who are able these groups may be of interest
Alternatively, if you would like to make a donation, then consider these organisations
Other ways to help
Council Services
The Council's response and details of how their services are affected can be found at: https://www.reading.gov.uk/coronavirus
Recycling centres are now closed.
The green bin collections have been suspended to allow the reduced crew to concentrate on collecting grey and red bins. The April payment will be deferred. https://www.reading.gov.uk/garden-waste
All Council Committees have been suspended and decisions are being taken by the chief executive and leader of the council. The council will publish urgent decisions via the 'decision book' process, which is normally used for non-controversial decisions. The Coronavirus Legislation now permits Councils to hold virtual meetings.
Children
Home Education Links
Here's what various celebrities and others are offering you and your kids for free daily to help with their education while schools are closed: Home Education
Having Fun
Reading Chronicle https://www.readingchronicle.co.uk/news/18333718.readings-snow-princess-parties-deliver-free-entertainment-children-facebook-live/
Shopping
Supermarkets are allocating priority times specifically for vulnerable people or for key workers.
Please note the following updates to the chart below are:
Sainsbury's are allowing NHS staff and care workers to shop from 7:30 - 8:00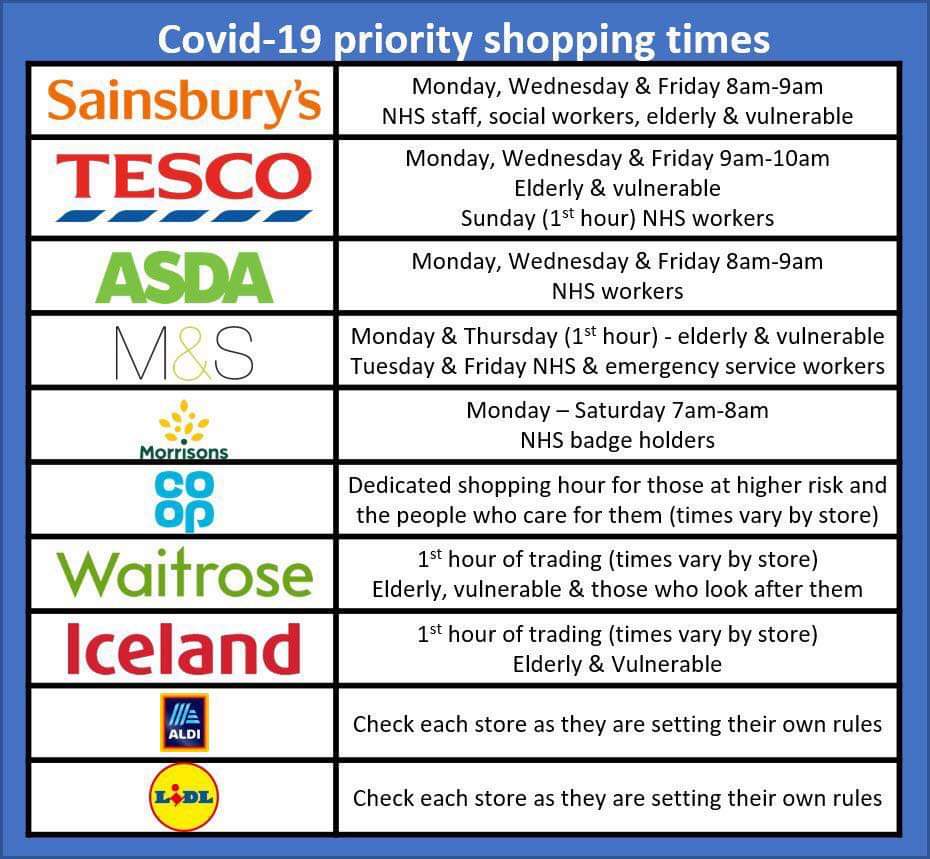 Booking delivery slots with major supermarkets is proving difficult, but is evolving rapidly. An alternative may be to use smaller local suppliers who offer a range of goods and some also deliver. Here is the latest list: Local Food Deliveries and Collections
With restaurants, cafes and pubs closed, many are offering take away for delivery or collection.
The Government has advice on which businesses can stay open https://www.gov.uk/government/publications/further-businesses-and-premises-to-close
Ways of Keeping in Touch Online
RVA have put together information about how to keep in touch: http://rva.org.uk/keeping-in-touch-online/
Local Food Deliveries and Collections
There is a growing list of small mainly local suppliers offering delivery services. The list is subject to change, as organisations may no longer be able to provide the service or are simply overwhelmed by requests (pdf version):
Dealing with Anxiety
This is a stressful time for many of us, so we hope these websites will be helpful.
Help for Vulnerable People with No Support
If you know or are a vulnerable person who has no support, then the One Reading Community Hub action line can connect people in need of help with: volunteers, organisations and services that can support them during the Covid-19 outbreak.
Please only contact the hub for urgent welfare needs, when no family member or trusted friend can help. Their telephone no. 0808 189 4325 is open 9am-5pm, five days a week.
Keeping Mind and Body Active
The Arts Community is working hard to bring culture and entertainment into your home
Learn something new
https://www.futurelearn.com has a huge range of fascinating and free on-line short courses, from Universities all over the world. Typically, they take 4 or 5 hours a week.
Keeping Fit
General advice from Sports England https://www.sportengland.org/news/how-stay-active-while-youre-home
There are many different videos and online classes available for all levels, which we will list here, as hear we about them.