Covid-19 Local Resources
Latest Updates
Kindness Calendar from Champions To End Loneliness
4 December 2020
Champions To End Loneliness - North Reading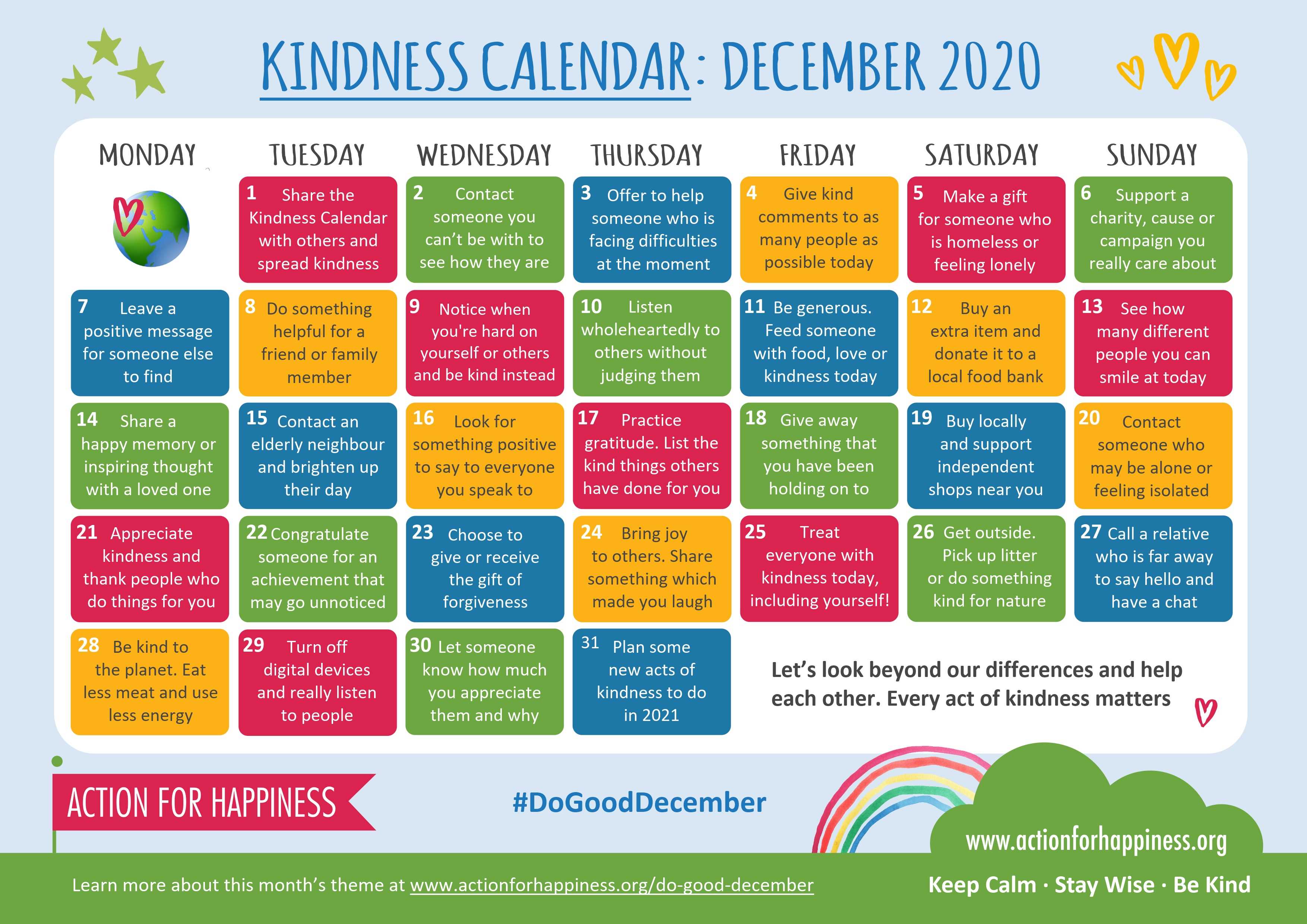 Wellbeing Service Newsletter from the Council
28 September 2020
Here is the latest Newsletter from Reading's Wellbeing Service. The service is overseen by a board drawn from the Council together with representatives of medical, health and welfare organisations in Reading.
Reading's Current Economic Situation Dashboard
24 September 2020
The Council's Policy Committee meeting on Monday 28 September at 6:30pm can be watched online. The Agenda includes an item, which you may find interesting on Supporting Reading's Economic Recovery and Renewal . It outlines the current economic situation in Reading, as a result of COVID-19, and the Council's initial and ongoing response. These appendices accompany it.
Reading "Unlocking" - August Dashboard - Statistics on town centre footfall, employment and transport.
Reading Powered by the People - The Council's economic recovery strategy 2020-22.
Council's Coronavirus Safety Messages
21 September 2020
The Council (RBC) have created an easy-access version of the national coronavirus test and isolate messages.
In the interests of reaching as many residents as possible with important coronavirus safety messages, the Council now has a webpage that brings together locally produced information and signposting to national resources in different languages: www.reading.gov.uk/coronavirus-translations
CADRA's Response - What We are Doing
We developed this page to provide sources of help and advice at the start of the lockdown, when things were changing frequently. Now, as many restrictions have been lifted, we are removing and editing sections that no longer seem relevant. We will continue to post new information and help on our Facebook page, for which you don't need a Facebook account for.
Our local Reading Voluntary Action organisation also has a wide range of useful information for individuals and groups, and nationally we like the information provided by the Eden Communities Project.
Local Dashboard and Guides to Health & Care Services
Public Health Berkshire, covering Reading and neighbouring Local Authorities, have set up a Dashboard of useful Covid-19 information.
Healthwatch Reading have provided this helpful Local Guide to Health & Care Services during the pandemic.
How You Can help
For those who are able these groups may be of interest
Other ways to help
Donating
If you would like to make a donation, then you might consider these organisations:
Local
National
International
Council Services
The Council's response and details of how their services are affected can be found at: https://www.reading.gov.uk/coronavirus-covid-19/
Children
Home Education Links
Here's what various celebrities and others are offering you and your kids for free daily to help with their education while schools are closed: Home Education
The British Psychological Society - https://thepsychologist.bps.org.uk/schools-really-out
Having Fun
Gruffalo illustrator, Axel Scheffler has produced a book about Covid-19 Coronavirus just for children - available as a FREE download a​t:
https://nosycrowcoronavirus.s3-eu-west-1.amazonaws.com/Coronavirus-ABookForChildren.pdf

Donations requested in lieu of payment, to ​www.nhscharitiestogether.co.uk/
Reading Chronicle https://www.readingchronicle.co.uk/news/18333718.readings-snow-princess-parties-deliver-free-entertainment-children-facebook-live/
Local Food Deliveries and Collections
We have updated our list of Local Suppliers of Food Deliveries and Collections.
Shopping
Much has changed since the lockdown was eased, but the Which Magazine have maintained a table of Supermarket Opening Times, these includes times specifically allocated for vulnerable people or for key workers.
At the start we developed a list of the many local suppliers who offered a range of goods and some also delivered. Whilst they may no longer provide the same services, here was the last list we published, which may be useful: Local Food Deliveries and Collections
Ways of Keeping in Touch Online
RVA have put together information about how to keep in touch: http://rva.org.uk/keeping-in-touch-online/
Dealing with Anxiety
This is a stressful time for many of us, so we hope these websites will be helpful.
Help for Vulnerable People with No Support
If you know or are a vulnerable person who has no support, then the One Reading Community Hub action line can connect people in need of help with: volunteers, organisations and services that can support them during the Covid-19 outbreak.
Please only contact the hub for urgent welfare needs, when no family member or trusted friend can help. Their telephone no. 0808 189 4325 is open 9am-5pm, five days a week.
Keeping Mind and Body Active
Keeping Fit
Sport in Mind is a Reading based independent multi-award winning mental health charity, whose mission is "To improve the lives of people experiencing mental health problems through sport and physical activity".
General advice from Sports England How to stay active while at home.Reading Sport + Leisure have listed useful links which offer exercise ideas for all ages and abilities.
The Arts Community is working hard to bring culture and entertainment into your home
Learn something new
https://www.futurelearn.com has a huge range of fascinating and free on-line short courses, from Universities all over the world. Typically, they take 4 or 5 hours a week.
Read about WEA courses on the RVA website. The Workers's Education Association is the UK's largest voluntary sector provider of adult education in England and Scotland. It's first volunteer-led branch was opened in Reading in 1904.
There are many different videos and online classes available for all levels, which we will list here, as hear we about them.